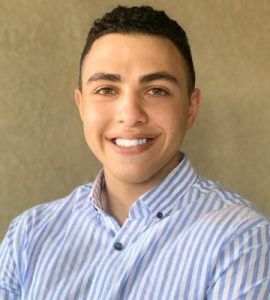 Why did you choose UCI for your undergraduate education?
When choosing which college to attend, it was clear to me that UCI would put me in the best position to grow as a student and as a person. A few of the reasons that drove me towards UCI are its large diverse student body, its expert professors, and its vast alumni network.
How have you seen the university and the School of BioSci evolve over your four years here?
During my time at UCI, the School of BioSci has significantly expanded its already robust class offering. Additionally, the School of BioSci increased the number of guest lecturers it held as well as other events which gave students the opportunity to interact with professors outside of the class setting, as well as the opportunities to interact with other professionals in a given field.
During the same time, the university completed the construction of multiple facilities which added new lecture halls and classrooms.
What do you consider are the greatest strengths of UCI as an institution? What about the School of BioSci?
I believe that the faculty and students are the greatest strengths at UCI. UCI provides students the opportunity to interact with and learn from experts in every field. Most notably, the UCI faculty includes three Nobel prize-winning professors. Additionally, UCI faculty are constantly involved in cutting edge research in their respective fields. UCI is also a place where students can learn from and interact with a diverse group of peers from all around the world.
Why are you proud to call yourself a part of the Anteater family?
UCI has provided me with a world-class education while allowing me to explore different research and volunteer opportunities. It has allowed me to interact with and learn from great professors. These are opportunities that I would not have had in a different university.
Why is it important that UCI has the support of the larger community?
The educational opportunities provided by the school would not be complete without the support of the community. This support allows students to become well-rounded individuals who are prepared for life after college. Through guest lecturers, students are able to gain insight into the field of their choice; through professional opportunities, students are able to apply the knowledge gained in class to the real world.
Being in research, can you speak to the value of research in the current circumstances and for the future?
The current pandemic shows us the importance of research. Researchers at UCI and around the world are working tirelessly to better understand and find a vaccine for the COVID-19 virus. Being in research has given me insight into the process that goes into researching and developing a vaccine.
Why is research meaningful? How can outside support help research initiatives to be successful?
Research serves to further our scientific knowledge and in doing so it propels our society forward. Without research, some of the greatest medical and technological advancements that have had a tremendous societal impact would not have been possible. As a student, research has allowed me the first real opportunity to analyze issues critically, as well as to improve my oral and written communication skills. The outside support or our alumni and community make this possible.
If you were speaking to someone interesting in donating to UCI, what would you tell them to encourage them to give?
The donations of others have allowed me to make the most of my time at UCI. The donations of others have made it possible for me to perform research as a student, and have made it possible for the school to host guest lecturers which I attended, and expand its curriculum. Your donation can do the same for future students.