I am UCI BioSci
Congratulations to our UCI School of Biological Sciences graduating students! Thank you for choosing BioSci to make your memories and enrich your future. You are the foundation of our School, and we are so excited to see our future biologists, doctors, pharmacists, and much more succeed!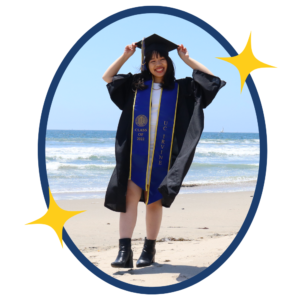 Quynh Do
Biological Sciences, BS
My favorite UCI BioSci memory was my first time in the Science Library. I recalled feeling inspired by the ambitions of other students in my school and how that motivated me to try my best in everything I do. I especially loved studying at the 5th floor of the library…
Read More About Quynh
where I was able to see the gorgeous view towards the UCI Medical School campus.
Being a part of the UCI BioSci community also allowed me to grow as a leader. As I graduate, I am most proud of taking on the position as the 2021-2022 UCI Peer Academic Advisor (PAA) Program Coordinator. I chose to step into the position after my role as the 2020-2021 Campuswide Honors Collegium PAA and after being inspired by my experiences with the previous Honors and BioSci PAAs. It was one of the most influential experiences of my undergraduate career, thanks to everyone I've met in the program. I now oversee over 80 PAAs among 15 academic units, where I have led over 8 weeks of training to ensure proper preparation for student leaders to serve their communities. Throughout my involvement in the program, I further appreciated how impactful peer support was for undergraduate students, especially during a time where we were figuring out our professional paths and goals.
By this time next year, I hope to be preparing my application to M.D.-Ph.D. programs, alongside traveling, learning new languages, and continuing my research work.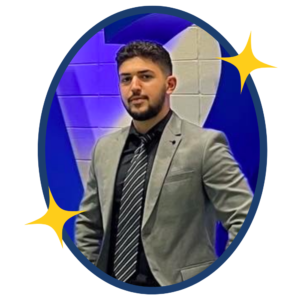 Rafael Gevorkyan
Neurbiology, BS
I fell in love with the campus and the city of Irvine, so I ultimately decided to transfer to the University of California, Irvine. UCI BioSci in particular has had no shortage of opportunities, despite the fact that the pandemic was in full effect when I joined.
Read More About Rafael
As a junior, I began to work as a clinical research assistant at the Department of Urology in UCI's Medical Center under Dr. Thomas Ahlering, focusing on robotic radical prostatectomy and prostate cancer research. Here, I was surrounded by the most passionate and driven people I had ever met in my entire life, and with their help, more opportunities unveiled themselves. This led to my current position at UCI Health where I now assist with the management of clinics for the Department of Urology, primarily for Dr. Ahlering whom I also shadow. I now have had countless hours of patient contact, developed strong relationships with well-established medical professionals, contributed to submissions of papers to high-impact journals, and overall, a myriad of other experiences that I never imagined were possible a mere two years ago, all thanks to the guidance and support from the great staff at UCI BioSci. I've also been lucky to have had the opportunity to work with Dr. Audrey Lew and Dr. Georg Striedter at the Department of Neurobiology, an experience that really defines most of my time at UCI.
I am currently applying to medical schools, and am enrolled in a 1-year accelerated master's program at UC Irvine; so my journey at UCI continues! I also have started a podcast for pre-med and STEM students alike with 3 of my closest friends, called the MedHeadz podcast, so check it out! Looking forward for the coming year, and I am proud to be an anteater."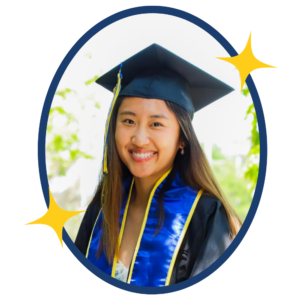 Allyssa Ha
Biological Sciences, BS
I am most proud of my neurobiology research at UCI BioSci! Quite similar to my hobby of doing escape rooms, research has taught me that the natural world has given us many puzzles to unlock mysteries that can lead to new medical advancements. As I venture out to medical school this fall, I hope to use my passion for drug research and medicine to create a more humanistic practice in psychiatry.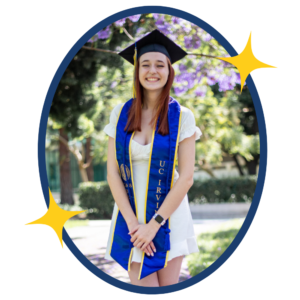 Maddy Halseth
Biological Sciences, BS
My favorite BioSci memory is working as a Peer Academic Advisor in the School of BioSci for the last two years! I have met such incredible people and found a strong support system.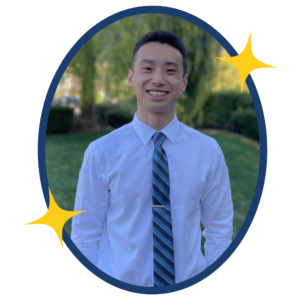 Leo Meller
Human Biology, BS
There were three main reasons why I chose to attend UC Irvine. First of all, it is a strong research institution where I can pursue my scientific interests. Second of all, there are ample clinical experience in Orange County, where I can excel as a pre-medical student!
Read More About Leo
Third, I was drawn by the collaborative environment at UC Irvine and the interdisciplinary training provided to undergraduate students.
What are you most proud of as you graduate?
I am most proud of my research experience at UC Irvine! UC Irvine has such a collaborative and rich research atmosphere, across many different disciplines. I was able to conduct a wide range of research, including basic science, undergraduate and medical education, and clinical research. Most importantly, I co-authored on multiple publications and presentations during my undergraduate career, including a paper with Dr. Bogi Andersen that was published in Nature Communications! I strongly recommend all UCI BioSci students to explore research and utilize the supportive research environment we have on campus!
By this time next year what do you hope to be doing?/What is next in your educational or professional journey?
I am starting medical school this summer! By this time next year, I hope to be exceling in my medical school courses, improving my clinical skills, and continue conducting research! In addition, I hope that I will be able to balance my time well in medical school, so that I can continue playing basketball, climbing, hiking, and hanging out with my loved ones!
How do you plan to celebrate your graduation?
I will be visiting family in the Europe while also visiting more national parks with friends! I hope to cross many things off my bucket list this summer!
What's your favorite UCI BioSci memory?
My favorite UCI BioSci memory is presenting my research at the Annual Undergraduate Research Opportunities Symposium! It is great that BioSci students have the ability to present their research and practice public speaking and presentation skills. The symposium is also a great opportunity to network and learn about other research studies occurring at UC Irvine!
What's your favorite place to relax and have fun on campus?
The ARC! It is an amazing gym and I wish I had climbed more during my time here.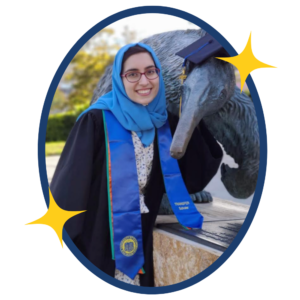 Rojina Pad
Biological Sciences, BS
I'm very grateful for all the fantastic and supportive friends, professors, research and academic mentors, counselors, and supervisors I've met in my journey at UCI for the past two years as a transfer student! Being in this friendly community with these wonderful people, who stood by me…
Read More About Rojina
… in every step of the way, especially during the COVID pandemic, was a blessing and taught me a lot about balancing school and life, sharing my experiences and knowledge with fellow anteaters, following my curiosity and passion, and enjoying my student life. Graduating from UCI is not the end of being an anteater, but in fact, it's the beginning of continuing my education and dreaming to return to UCI as a proud medical student in near future.
Zot Zot Zot!"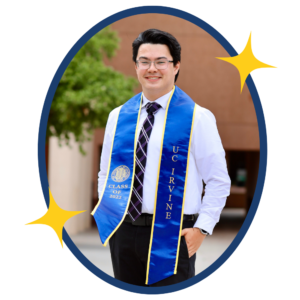 John Robb
Human Biology, BS
I did not start my UCI journey as a major in Bio Sci, but I'm so glad to have found a community in the School and in Human Bio! I'm forever grateful for the instruction, support, and mentorship that I have received from the faculty and staff of UCI Bio Sci.
Read More About John
I will miss my fellow Peer Academic Advisors and all the Bio Sci 2A Discussion Leaders from the past two years. Looking ahead, I plan to apply for MD/PhD programs after graduation to prepare for a career in health equity research, inspired by my Bio Sci 199 research with the HELIOS Lab.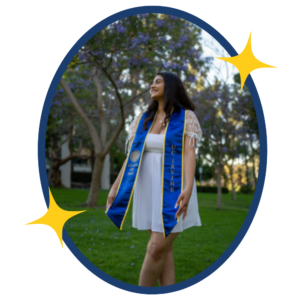 Marina Ebeid
Human Biology, BS
I will cherish all the memories that I've created these past four years in UCI BioSci! From being a member of the Human biology Major, to being a Bio 2A TA, to being a Peer Academic Advisor for BioSci student affairs, I will miss all the support, love, and kind people! In the near future, I will be applying to PA school to pursue a career as a pediatric healthcare provider. Thank you UCI for the best 4 years of my life!